It is important to understand that after Jesus died, he did not immediately enter the physical presence of his father, our Father in Heaven. Perhaps a misunderstanding on this point arises from the language of Alma, who stated, "The spirits of all men, as soon as they are departed from this mortal body, yea, the spirits of all men, whether they be good or evil, are taken home to that God who gave them life" (Alma 40:11). Several of the early apostles and prophets of this present dispensation have helped us to understand Alma's language. [8] Perhaps the clearest interpretation of Alma's use of the phrase "taken home to that God who gave them life" was offered by President George Q. Cannon, counselor in the First Presidency for many years.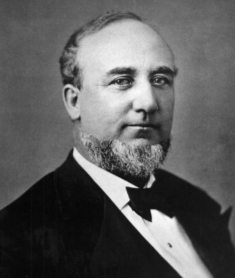 President George Q. Cannon (© Intellectual Reserve, Inc.)
Alma, when he says that "the spirits of all men, as soon as they are departed from this mortal body, . . . are taken home to that God who gave them life," has the idea, doubtless, in his mind that our God is omnipresent—not in His own personality but through His minister, the Holy Spirit.
He does not intend to convey the idea that they are immediately ushered into the personal presence of God. He evidently uses that phrase in a qualified sense. Solomon . . . makes a similar statement: "Then shall the dust return to the earth as it was: and the spirit shall return unto God who gave it." (Ecclesiastes 12:7.) The same idea is frequently expressed by the Latter-day Saints. In referring to a departed one it is often said that he has gone back to God, or he has gone "home to that God who gave him life." Yet it would not be contended that the person who said this meant that the departed one had gone where God, the Father Himself is, in the sense in which the Savior meant when He spake to Mary. [9]
For the righteous, those who strive to live the gospel of faith, repentance, baptism, and the gift of the Holy Ghost, the spirit world will be a place of peace, rest, and security. President George Q. Cannon gave us the assurance that "Satan is bound as soon as the faithful spirit leaves this tabernacle of clay and goes to the other side of the veil. That spirit is emancipated from the power and thralldom and attacks of Satan. Satan can only afflict such in this life."
President Cannon stated, "How delightful it is to contemplate the departure of those who have been faithful, as far as their knowledge permitted, to the truth which God has revealed! There is no sting nor gloom nor inconsolable sorrow about the departure of such persons. Holy angels are around their bedside to administer unto them. The Spirit of God rests down upon them, and His messengers are near them to introduce them to those who are on the other side of the veil."
President Joseph F. Smith added this thought: "What is more desirable than that we should meet with our fathers and our mothers, with our brethren and our sisters, with our wives and our children, with our beloved associates and kindred in the spirit world, knowing each other, identifying each other . . . by the associations that familiarize each to the other in mortal life? What do you want better than that?"
Elder Orson Pratt of the Quorum of the Twelve spoke powerfully of the increased capacities of spirits in paradise to learn, grow intellectually, and increase in knowledge exponentially:
"When I speak of the future state of man, and the situation of our spirits between death and the resurrection, I long for the experience and knowledge to be gained in that state, as well as this. We shall learn many more things there; we need not suppose our five senses connect us with all the things of heaven, and earth, and eternity, and space; we need not think that we are conversant with all the elements of nature, through the medium of the senses God has given us here. Suppose He should give us a sixth sense, a seventh, an eighth, a ninth, or a fiftieth. All these different senses would convey to us new ideas, as much so as the senses of tasting, smelling, or seeing communicate different ideas from that of hearing."
President Joseph F. Smith said of paradise, it is a place where the righteous can "expand in wisdom, where they have respite from all their troubles, and where care and sorrow [will] not annoy." [24] Paradise will be a place where our spirit bodies will be free to think and act with renewed capacity, vigor, and enthusiasm that will prepare us for eternal life, which is made possible by the Atonement of Jesus Christ.
The Savior's Ministry to the Spirit World
Andrew C. Skinner, "The Savior's Ministry to the Spirit World" in With Healing in His Wings, ed. Camille Fronk Olson and Thomas A. Wayment (Provo, UT: Religious Studies Center; Salt Lake City: Deseret Book, 2013), 81–107.
Andrew C. Skinner is a professor of ancient scripture at Brigham Young University.
"We shall turn round and look upon [the valley of death] and think, when we have crossed it, why this is the greatest advantage of my whole existence, for I have passed from a state of sorrow, … pain, anguish and disappointment into a state of existence, where I can enjoy life to the fullest extent as far as that can be done without a body. My spirit is set free, I thirst no more; I want to sleep no more, I hunger no more, I tire no more, I run, I walk, I labor, I go, I come, I do this, I do that, whatever is required of me, … I am full of life, full of vigor, and I enjoy the presence of my heavenly Father, by the power of his Spirit" ("Discourse by President Brigham Young," Deseret News, August 5, 1874, 427).